Welcome to MAHC
Wound Care: Making the Connection
November 29, 2016 - Stoney Creek Inn, Columbia, MO
Brochure & Registration Form
Interesting in Exhibiting or being a Sponsor? Click Here!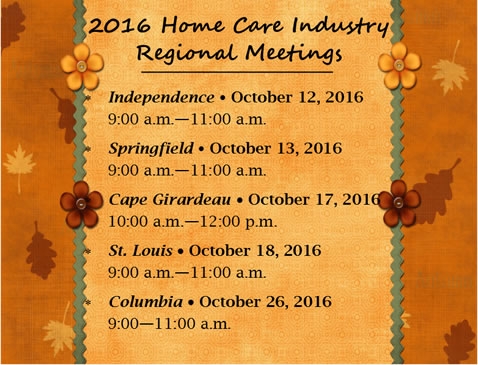 Click Here for the Brochure & Registration Form

ICD-10 Coding, All Connections Matter
September 27 - 29, 2016
Brochure & Registration Form
Exam Registration Form*
* You may register only by phone or fax. This is mandatory for the correct location of the exam
and to receive discounts. If you register by phone be sure to have the conference code ready
that is located on the lower right side of the registration form.
For any questions please contact Abby at (573) 634-7772 or abby@mahcmail.org.

2016 ICD-10-CM Diagnosis Coding Manual & Study Guide
Click Here for the Order Form and MAHC Member Discount through Decision Health.
The quick order link is: https://store.decisionhealth.com/QuickOrder.aspx?PromotionCode=IPSAMO16
(Does not have the 2017 ICD-10 coding manuals, members will need
to go to: https://www.homecarecoding.com/ and select the pre-order for the
coding manual and input the promo code)

Medicaid Home Health Non-Routine Medical Supplies
Click Here for the final regulation published in the June 1st MO Register, on page 719

Electronic Visit Verification (EVV/Telephony) Presentation
Click here for a copy of the EVV presentation presented at the 2016 Annual Conference

The Caring Connection
2016 - 2017 Aide Teleconference Series
July 14, 2016 - June 8, 2017
Click Here for more information
No Tricks & No Treats - What Aide's Need to Know to Protect Themselves
from Negative Accusations & Investigations
October 18, 2016
Flyer & Registration Form

Community Paramedic and Mobile Integrated Health Care Program
In 2013, the Missouri Legislature passed a law authorizing Community Paramedic (CP) programs throughout the
state. MAHC has been involved with the implementation of this new law and has been working with a newly formed
ad hoc group, the Partnership for Community Care (PCC). The PCC helped draft rules governing the community
paramedic role. Even though rules have not been filed yet, we encourage home care providers to be proactive and
reach out to your local ambulance districts, hospitals and EMS programs. These locally designed programs should
be developed with the input of all stakeholders to assess unmet needs and develop community based solutions.

MAHC along with MONA and many of the paramedic, emergency and ambulance associations worked to develop
a Joint Statement of Principles, which is intended to build on available national resources to help define key
principles and elements for CP programs in MO. Click here to access the Statement.

Clinical Procedure Manual, 19th Edition
MAHC Member Exclusive Discount
(through MAHC's partnership with the Visiting Nurse Associations of America)
MAHC Members - Click Here for order form

GREAT NEWS!


MAHC's Multi-Factorial Fall Risk Assessment Tool
validation study results have been published.
The MAHC-10 Tool is now ready for use!
Click Here

to learn more and to access the tool

.
The Missouri Alliance for Home Care is Missouri's largest trade association representing the interests and concerns of home health agencies, home care companies, hospices and private duty companies.